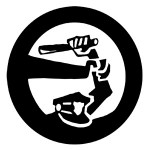 Tijekom 4. ročišta održanog 25.01. čuli smo izjave dvojice svjedoka, koji su sudjelovali u prosvjedu, te koji su bili prisutni tijekom cijelog napada policajaca u civilu na prosvjednike do njihovog privođenja. Obojica su se izjasnili kako su vidjeli dvojicu napadača obučenih u "civilnu odjeću" kako napadaju Eugena s leđa bez ikakvog upozorenja ili identifikacije. Također, jedan od svjedoka rekao je kako su policijski službenici pokušali uzeti njegovu kameru dok je snimao cijeli incident, te da su ga legitimirali bez da mu kažu razlog istoga unatoč njegovom inzistiranju zašto to čine. Uz sve navedeno, mimo ročišta saznali smo kako je policija "neformalnim putevima" pokušala utjecati na iskaze svjedoka prije suđenja, ali bezuspješno.
Ova dva svjedočenja potvrdila su što je do sada rečenu u tijeku ovog kaznenog postupka, a to je kako policija nije poštivala vlastite protokole, da je upotrijebila prekomjernu silu, bez razloga i logike, jednostavno sljedeći zapovijedi; koja su bila "zastrašiti prosvjednike kako bi se isti pasivizirali". Unatoč tome, ovaj prljavi pokušaj kriminalizacije slobode govora, kretanja i borbe za bolje društvo neće proći! Još jednom, javnost je pokazala solidarnost dolazeći na javna suđenja okrivljenim anarhistima, dolazeći iz Rijeke, Istre, te Slovenije, kojima se ovim putem zahvaljujemo na borbi i podršci.
Sudsko-medicinski vještak, koji je utvrdio "tešku fizičku ozljedu" kod policajca, na ovo ročište nije mogao doći stoga će biti ispitivan na sljedećem koje će se održati 22.3. u 9h, kada će se pregledavati snimke i fotografije prosvjeda i policijske represije. To bi značilo da je ovaj kazneni postupak produžen za još jedno ročište, jer ukoliko na 5. ročištu ne budu okrivljenici iznosili svoju obranu, to će moći učiniti tek na 6. ročištu.
Ideja ne može biti zatvorena ili ubijena!
---
Report from the 4th hearing, and the announcement for the 5th hearing (will be held in March 22nd 2016) – in the criminal proceeding against anarchists in Rijeka (Croatia)
>During the fourth hearing we heard statements from two eyewitnesses, who participated in the demonstration, and who were present at the scene the entire time when the attack by the police in civilian clothing on the protesters took place, till the moment the protesters were taken into custody.
They both stated that they saw two guys attacking Eugen from behind, without any warning or identification. They told the judge that the attackers were dressed casually, in dark clothes and jeans. Also, one of the eyewitnesses told that one of the police officers tries to take away his camera while he was filming the entire incident, and that the policemen tried to identify him without stating the reason for it, when asked to do so.
Also, we found out that the police tried to influence one of the eyewitnesses before the hearing, luckily without any success.
These last two testimonies only confirmed what has already been said during the proceedings – that the police overstepped their regulations, demonstrating unnecessary force, without reason and logic, simply following orders; which were to "scare the protesters out of protesting". But this dirty attempt to criminalize freedom of speech, of movement, and of fighting for a better society shall not pass!
The medicinal court expert, who established that the policeman was "badly injured", has been excused from this hearing, being unable to come, and will be questioned in the next hearing will be held on March 22nd, when footages and photos from the demonstration, as well as from the attack will be shown.
Once again, the public has shown great solidarity in support of the accused anarchists. We had guests from Slovenia, as well as Croatia; from Rijeka and Istria. Thanks for the struggle, for the love and support!
An idea cannot be killed or imprisoned!
---
Općinski sud u Rijeci
Ulica "Žrtava fašizma 7"
Sutkinja Brankica Grgurić
Predmet K-632/13
---
Povezani članci
– Masnice s potpisom lokalne vlasti (Direktna akcija, ASI) (7.3.2013.) (Beograd, Srbija)
– Podrška Zadruge Praksa (Pula, Hrvatska)
– Intervju s Alternativom Obstaja (FAO – IFA) (Kopar, Slovenija)
– Prvo ročište kaznenog postupka (20.5.2015.) (Rijeka, Hrvatska)
– Drugo ročište kaznenog postupka (31.8.2015.) (Rijeka, Hrvatska)
– Izjava sindikata Akademska solidarnost (31.10.2015.) (Rijeka, Hrvatska)
– Izvještaj s 2. i najava 3. ročišta (02.11.2015.) (cro, eng) (Rijeka, Hrvatska)
– Debata o kriminalizaciji protesta u "Anarhističkoj kafani" (6.11.2015.) (Kopar, Slovenija)
– Intervju za anarhistički časopis BURA (15.11.2015.) (Niš, Srbija)
–– Izvještaj s 3. i najava 4. ročišta (25.01.2016.) (cro, eng) (Rijeka, Hrvatska)