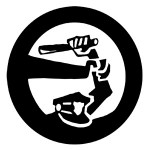 Na proljeće 2013. u Rijeci, ali i diljem Hrvatske, odvijali su se prosvjedi s ciljem zaustavljanja privatizacije javnih dobara (šuma, vode, otoka i ostalih prirodnih resursa) te s ciljem protivljenja gospodarsko-političkoj eliti koja je čvrsto odlučila svima nama zagorčavati živote. U sklopu tih prosvjeda lokalna vlast je odlučila prije izbora za Europski parlament počistiti ulice u Rijeci od prosvjednika policijskim nasiljem. Tako se dogodio i incident nakon prosvjeda 01.3.2013. kada su prosvjednici napadnuti u kružnoj ulici (ispred Palacha) od strane policijskih službenika u civilu koji se u niti jednom trenutku nisu predstavili. Uz kršenje vlastitih protokola, grubu primjenu sile (i nad djevojkama), maltretiranje u 1. policijskoj postaji do kasno u noć, zabranu prilaženju centru grada određenim prosvjednicima na tjedan dana, lokalnoj vlasti i policiji nije bilo dovoljno iživljavanja – stoga su pokrenuli kazneni postupak za Zoranu i Eugena uz pomoć Općinskog državnog odvjetništva u Rijeci. U kojem se za Zoranu traži dvije godine uvjetne kazne, a za Eugena 8 mjeseci zatvora. Optužnica se temelji na iskazima policajaca koji prebacuju odgovornost s vlastitog kršenja pravilnika o načinu postupanja policijskih službenika na Zoranu i Eugena koji su postali meta represije u okviru kriminalizacije socijalnih prosvjeda. Jasno je da iza ovoga stoji politička odluka da se skrši volja i mobilizacijska snaga ulice kao protuteže kriminalnoj politici gospodarsko-političke elite, stoga pozivamo javnost da ovaj slučaj isprati do kraja, kako bi se smanjila mogućnost samovolje policije, sudstva i vlasti. Prva rasprava u kaznenom postupku održat će se 20.5. u 11:30h za Zoranu i Eugena u Općinskom sudu u Rijeci na prvom katu, na kojoj se izjašnjavaju o svojoj krivnji, odnosno nevinosti.
Inicijativa Protiv političke represije u Rijeci
---
The first hearing (20.5.2015.) of the criminal proceeding connected with the criminalization of protests from 2013 in Rijeka, Croatia.
In spring of 2013, there were a series of demonstrations all over Croatia. All were aimed at stopping the privatization of public goods (such as forests, water, islands and other natural resources), as well as at showing disapproval of the financial and political elite who have long decided to make our lives miserable. During these demonstrations, the local government of Rijeka decided to "clean" the streets of protestors, using police violence. So an incident occured after the demonstration on March 1st 2013, when protesters were attacked by police officers in civilian clothing, who never introduced themselves as police officers. After breaking their own protocols while "hunting down" protesters in the streets, using rough force while arresting protesters of all genders and age, harassing 11 protestors at the police station for several hours and issuing banning orders to protesters restricting their right of free movement for a week – local government and the police still did not have enough of giving vent to their low instincts, so with the help of the Municipal State's Attorney's Office in Rijeka they brought up criminal charges against two of the protesters (Zorana and Eugen). For Zorana, they demand a 2 year conditional discharge, and for Eugen 8 months of prison. The accusation is based upon statements of two police officers who are transferring responsibility from their own breaking of official police protocol to Eugen and Zorana, who have become targets of repression serving the aim of criminalizing social protests in general. It is obvious that behind this case stands a political decision to break the will and mobilizing force of the street which so far served as a counterweight to the criminal politics of the elites, therefore we are inviting the public to follow this case to its end, to diminish the despotism of the police by participating and sharing information. The first hearing in this criminal case will take place on May 20th 2015, at 11:30 am, at the Municipal court in Rijeka.
Initiative Against political repression (Rijeka)
---
La prima udienza (20.05.2015.) Del procedimento penale sulla criminalizzazione delle proteste del 2013.
Nella primavera del 2013 a Fiume, ma anche in tutta la Croazia, si sono svolte le proteste con l'obiettivo di fermare la privatizzazione dei beni pubblici (foreste, acqua, isole e altre risorse naturali) con lo scopo di opporsi alla élite economica e politica che è determinata a tutti noi rendere la vita difficile. In tempo della protesta autorità locali hanno deciso che prima delle elezioni per il Parlamento europeo, ripulire le strade di manifestanti a Fiume, usando la violenza della polizia. Così, dopo la protesta 01/03/2013 si è verificato l'incidente quando i manifestanti sono stati attaccati nella strada circolare (di fronte club giovanile Palach) da agenti di polizia in borghese che in nessun modo si sono identificati come agenti di polizia. In violazione dei propri protocolli, con uso della forza bruta (anche nei confronti delle ragazze), le molestie sono continuate nella prima stazione di polizia a Fiume fino a a tarda notte, alcuni manifestanti ano ricevuto il divieto di avvicinamento il centro della città per una settimana, le autorità locali e la polizia non erano abbastanza sodisfati con accaduto ed ano avviato un procedimento penale per protestanti Zorana e Eugen con l'aiuto del l' Ufficio del Procuratore Comunale di Fiume, quale di Zorana esige due anni di libertà vigilata, e ad Eugen otto mesi di carcere. L'accusa si è basata sulla testimonianza degli agenti di polizia che passano propria violazione delle norme sulla condotta di agenti di polizia a Zorana e Eugen che divenne il bersaglio della repressione nella criminalizzazione della protesta sociale. E chiaro che alla base di questa decisione politica di schiacciare la volontà e il potere di mobilitazione della strada come un contrappeso alla politica criminale di élite economica e politica, invitiamo il pubblico di seguire questo caso fino alla fine, al fine di ridurre la possibilità di arbitrarietà della polizia, la magistratura e il governo. La prima udienza del procedimento penale si terrà 20.5. alle 11:30 per Zorana e Eugen al Corte Municipale di Fiume, primo piano, dove dove potranno dichiarare la loro colpevolezza o innocenza.
L'iniziativa contro la repressione politica a Fiume (Rijeka – Croazia)
---
20/05/2015. Première audience de la procédure pénale liée à la criminalisation de la protestation de 2013, à Rijeka, en Croatie.
Lors du printemps 2013, il y a eu une série de manifestations dans toute la Croatie. Toutes visaient à arrêter la privatisation des biens publics (tels que les forêts, l'eau, les îles et d'autres ressources naturelles), ainsi que de montrer la désapprobation face à l'élite financière et politique qui a, depuis longtemps, décidé de rendre notre vie misérable. Au cours de ces manifestations, le gouvernement local de Rijeka a décidé de « nettoyer » les rues des manifestants, en utilisant la violence policière. Un incident est survenu après la manifestation du 1er Mars 2013, lorsque des manifestants ont été attaqués par des policiers en civil, qui ne se sont pas présentés comme des policiers. Après avoir rompu leurs propres protocoles en « traquant » les manifestants dans les rues, en utilisant la force brute en arrêtant les manifestants de tous les genres et de tout âge, en harcelant 11 manifestants au poste de police pendant plusieurs heures et en émettant une interdiction des protester aux manifestants en restreignant leur droit de circulation pendant une semaine, le gouvernement local et la police n'en finissent toujours pas de donner libre cours à leurs bas instincts, avec l'aide du Bureau du procureur de Rijeka, ils ont décidé de porter des accusations criminelles contre deux des manifestants (Zorana et Eugen). Pour Zorana, ils demandent une conditionnelle de 2 ans, et pour Eugen 8 mois de prison. L'accusation se fonde sur les déclarations de deux agents de police qui transfèrent la responsabilité de la rupture de leur propre protocole officiel sur Eugen et Zorana, qui sont devenus des cibles de la répression au service de la criminalisation de la protestation sociale en général. Il est évident que derrière cette affaire, on trouve une décision politique pour briser la volonté et la force de mobilisation de la rue qui, jusqu'ici, a servi de contrepoids à la politique criminelle des élites. Par conséquent, nous invitons le public à suivre cette affaire jusqu'à sa fin, afin de diminuer le despotisme de la police en participant et en partageant l'informations. La première audience dans cette affaire criminelle aura lieu le 20 mai 2015, à 11h30, à la cour municipale de Rijeka.
Initiative contre la répression politique (Rijeka)