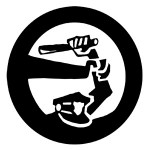 Ovo je do sada bilo najkraće ročište, koje je trajalo svega 10 min. U tom kratkom vremenu svi prisutni (sutkinja, 4. po redu tužiteljica, odvjetnici i javnost koja je ovaj put došla iz Rijeke i Splita) su pregledavali snimke prosvjeda i policijskog nasilja.
Sljedeće ročište, 6. po redu, zakazano je za 18.5. u 9h pošto se ni na ovo ročište nije odazvao sudsko-medicinski vještak. nakon kojeg smo trebali iznositi svoju obranu.
Obranu ne možemo iznijeti dok svi u postupku ne kažu svoje, dakle ona se iznosi predzadnja, nakon čega stupa u kratkom vremenu presuda (8 mjeseci zatvora za Eugena i 2 godine uvjetne kazne za Zoranu) koja može biti oslobađajuća ili potvrda optužnice državnog odvjetništva.
Naše glave ostaju visoko uzdignute!
---
Report from the 5th, and the announcement for the 6th hearing (will be held on May 18, 2016) – in the criminal proceeding against anarchists in Rijeka (Croatia)
This was the shortest hearing so far, lasting roughly 10 minutes. In this short time, footage from the demonstration, and from the police brutality was shown, during which comrades were attacked by 2 policeman in civilian clothing (supported by others in uniforms), and are now being sued for breaking one of the policemans´ fingers.
Their defence cannot be heard until the last of the witnesses have taken their stand, and that considers an official court medical expert, who has determined the cause of the policeman´s injury, and who has so far been absent two times in a row.
Hopefully, all that will happen on the next hearing, which will be held on May 18, 2016 in the building of Rijeka municipal court, at 9:00 o´clock.
We stand proudly with our heads up!
---
Općinski sud u Rijeci
Ulica "Žrtava fašizma 7"
Sutkinja Brankica Grgurić
Predmet K-632/13
---
Povezani članci
– Masnice s potpisom lokalne vlasti (Direktna akcija, ASI) (7.3.2013.) (Beograd, Srbija)
– Podrška Zadruge Praksa (Pula, Hrvatska)
– Intervju s Alternativom Obstaja (FAO – IFA) (Kopar, Slovenija)
– Prvo ročište kaznenog postupka (20.5.2015.) (Rijeka, Hrvatska)
– Drugo ročište kaznenog postupka (31.8.2015.) (Rijeka, Hrvatska)
– Izjava sindikata Akademska solidarnost (31.10.2015.) (Rijeka, Hrvatska)
– Izvještaj s 2. i najava 3. ročišta (02.11.2015.) (cro, eng) (Rijeka, Hrvatska)
– Debata o kriminalizaciji protesta u "Anarhističkoj kafani" (6.11.2015.) (Kopar, Slovenija)
– Intervju za anarhistički časopis BURA (15.11.2015.) (Niš, Srbija)
–– Izvještaj s 3. i najava 4. ročište (25.01.2016.) (cro, eng) (Rijeka, Hrvatska)
–– Izvještaj s 4. i najava 5. ročište (22.3.2016.) (cro, eng) (Rijeka, Hrvatska)