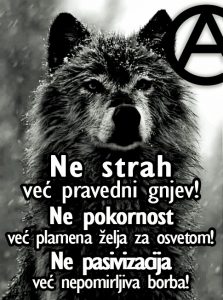 Krivi su po svim točkama optužnice (narušavanje javnog reda i mira, teške fizičke ozljede policajcu i prisila prema službenim osobama), s 8 mjeseci zatvora (prijedlog tužiteljstva) na 10 mjeseci zatvora (presuda sutkinje), ako prekrši uvjetnu od dvije godine za Eugena i 6 mjeseci zatvora ako Zorana prekrši uvjetnu od 1 godine.
Obavještavati ćemo ćemo vas o presudama ovisno o stupnju presude (sljedeći je županijski sud…). Uložit će se žalbe, jer ako su prihvatili presudu mogu zaboraviti ikada raditi u svim poduzećima koji traže čisti dosje (u smislu kaznenih djela protiv života i tijela, te "organa reda" – u svim školama, uzimajući u obzir da su oboje profesori).
Javnost je morala stajati u hodniku pošto nije bilo dovoljno mjesta u sudnici, a pravosudni policajci su po prvi puta uznemireno cirkulirali među pridošlom javnosti.
Borba se nastavlja do zadnjeg daha!
---
Donosimo vam pregled podrške iz cijelog svijeta u PDF-u!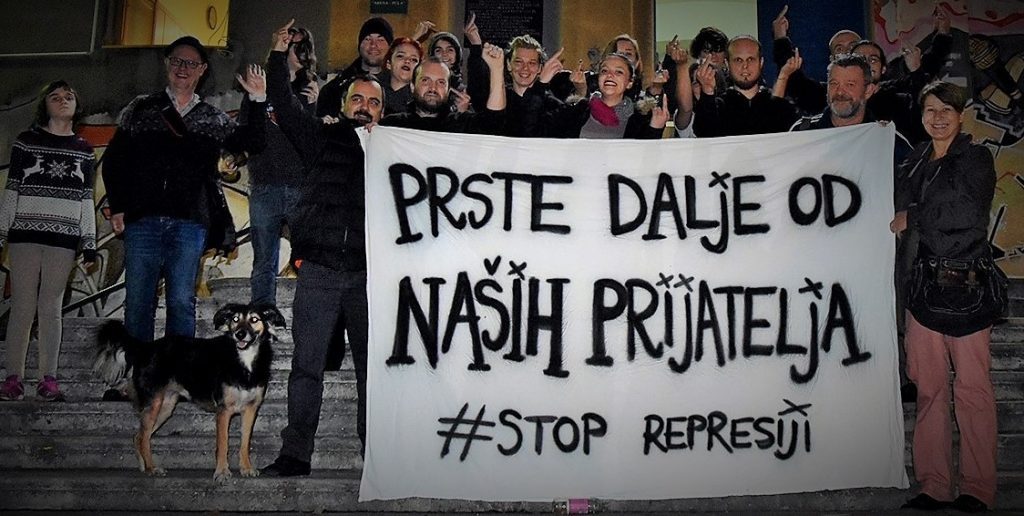 ---
Report from the verdict in the criminal proceeding against anarchists in Rijeka, Croatia
Guilty by all points of the accusation: disturbing the public peace and quiet, serious physical injury of a policeman, and using force against the police – with 10 months imprisonment for Eugen, if he is to breach his 2 year parole, and 6 months imprisonment for Zorana, if she is to breach her 1 year parole term.
We will inform the public on the verdicts, depending on the court level. Appeals will be made by the defence; next is the regional court. If comrades were to accept these conditional penalties, they could have forgotten to ever work in places which ask for a clean file, especially in schools, since both are teachers by profession.
The numerous public showed great support, but most had to wait outside the courtroom, since there weren´t enough seats inside, and the court officers were nervously circulating among the supporters for the first time.
The struggle continues to the last breath!
---
I compagni Eugen e Zorana sono stati dichiarati colpevoli su tutti i punti dell'accusa: disturbo dell'ordine e della quiete pubblica, lesioni ai danni di un poliziotto e intimidazione verso un pubblico ufficiale. Il tribunale ha comminato una pena di 10 mesi di reclusione per Eugen se dovesse violare il periodo di prova di 2 anni e per Zorana 6 mesi di reclusione in caso di altri provvedimenti prima di un anno.
Vi informeremo circa le decisioni nel prossimo grado di giudizio. La difesa ora farà ricorso al tribunale regionale. Se i compagni dovessero essere costretti ad accettare la pena condizionale loro comminata possono dimenticare per sempre di lavorare in luoghi che richiedono una fedina penale pulita, come nelle scuole dove entrambi sono impiegati in qualità di insegnanti.
Il numeroso pubblico al processo ha mostrato grande sostegno. La maggior parte ha tuttavia dovuto aspettare fuori dall'aula dell'udienza per la mancanza di posti a sedere, dove gli ufficiali giudiziari circolavano nervosamente tra i sostenitori per la prima volta.
La lotta continua fino all'ultimo respiro!
---
[Dois camaradas da MASA-Rijeka (FAO-IFA-Internacional de Federações Anarquistas) foram condenados com acusações criminais de resistir à prisão e desordem pública, que aconteceram após os protestos contra planos de privatizações na Croácia em 2013, quando os acusados foram atacados por policiais à paisana]
Culpados em todos os pontos da acusação: perturbar o sossego e a paz pública, séria lesão física a um policial e uso de força contra a polícia – com cárcere de 10 meses para Eugen, se violar a condicional de 2 anos, e 6 meses de cárcere para Zorana, se ela violar sua condicional de 1 ano.
Informaremos o público sobre os vereditos, dependendo da instância do tribunal. Recursos serão feitos pela defesa; a próxima instância é o tribunal regional. Se os camaradas aceitarem essas penalidades condicionais, eles podem esquecer a ideia de trabalhar em lugares que pedem uma ficha limpa, especialmente em escolas, já que ambos são professores.
O numeroso público presente demonstrou apoio, mas a maioria teve que esperar fora do tribunal, pois não haviam assentos suficientes do lado de dentro e os oficiais de justiça estavam circulando nervosamente entre os apoiadores pela primeira vez.
A luta continua até o último fôlego!
---