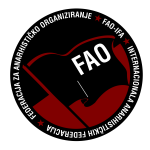 Nazočili smo 14.01.2017. reguralnom sastanku grupa koje okuplja anarhistička federacija FAO (Slovenija & Hrvatska), na kojem je bilo istaknuto pitanje obrane autonomnih prostora, s naglaskom na trenutno eviktirani skvot Argo (u Izoli) i skvot UP INDE kojem prijeti evikcija (u Kopru), od strane iste banke (DUTB). Od ostalih stvari vrijedi spomenuti kako se na svakom sastanku međusbno informiramo o međunarodnim kontaktima i događanjima, te o internim procesima u organizaciji poput izdavaštva, blagajne, sudskih procesa itd.
Na istom sastanku smo potvrdili svoje prve korake i planove za operativnošću kao Mreža anarhista u Istri i na Kvarneru, a na kojem su bili prisutni delegati grupa iz Maribora, Sevnice, Kopra, Izole, Ljubljane i Pule. Neka se anarhističke aktivnosti šire!
---
Iz #Ciljevi:
Povezati anarhističke individue i potaknuti osnivanje anarhističkih grupa na području Istre i Kvarnera, te intenzivirati njihovu suradnju.
Izgrađivati infrastrukturu otpora (kulturne i sportske projekte, izdavaštva, autonomne prostore, organizacije za samopomoć i borbu, kontra-informacijske projekte) kao protutežu kapitalizmu i državi, te projekciju u radikalno drugačiju budućnost.
---
Delegate meeting of FAO-IFA in Ljubljana, Slovenia
Recently the squat Autonomous Zone Argo in Izola (Slovenia) was evicted by a private security company and police. Another squat UPInde in the neighbouring city Koper is also under threat of eviction. Both spaces are owned by The Bank Assets Management Company ("Bad bank" created by the state). In both spaces comrades of FAO-IFA are active.
On the delegate meeting of FAO-IFA that took place on 14/1/16 in Ljubljana the strategy to defend the autonomous spaces and other steps of engagement were planned. Understand this text as a call for solidarity!